First of all if I could do this
I would!
I was shocked and horrified when trying on some clothes in Target today.
There I was trying on my clothes (that are another size smaller) when I couldn't help but overhear the conversation a few changerooms along between a mother and her daughter.
The mother was trying to get the young girl to try on clothes that were obviously too small. My heart started to ache when I heard the young girl say to her mother that she needed a bigger size. Now there is nothing wrong with needing a bigger size but when you are told by the person who should love you the most that
you will not be getting a bigger size and you will have to go without having dinner for a week so that you can lose that belly of yours,
well that is just so heartbreaking. I cringe at the pshycological damage that she is doing to this young little thing.
I had already finished trying on my clothes and was all dressed by the time their conversation ended. I exited the change room and sat on the new comfy seats just outside the area (where the dads, husbands, boyfriends and kids sit patiently waiting for the women in their lives to finish whiilst watching whatever was playing on the new TV there) and I waited for the mother and daughter to come out.
I dont know why, but I had to get a glimpse of this woman. Maybe it was because I was trying to see if there was an actual reason for her speaking to her daughter the way she did, not that there ever could be.
Well finally they came out. I knew it was them as the woman was now speaking on her mobile to someone (so I recognised the voice). The little girl was probably aged between 8 and 10 and I shot her a little smile trying to tell her without words that you are beautiful no matter what.
I haven't stopped thinkng about that little girl all day.
Why is there so much pressure on people to look a certain way? I mean this little girl was not even overweight!! I feel like her mother must have had such a complex about weight that she was doing damage to her daughter without even realising it. It makes me mad, sad and confused!
Then there are shows like this horrendous example.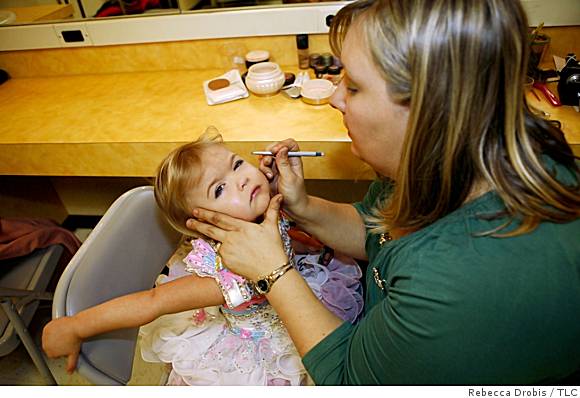 Does this look like the face of someone who is enjoying being made to look
"beautiful"
in the eyes of their mother and some unknown judges on a
"I am the decider of who is the most beautiful child"
power trip? Especially when this child is probably so beautiful just the way she is.
I make a promise here and now, for the young girl I saw today, for my daughter and for anyone else who has felt the pressure ofsociety to lose weight, that I will not let this become my daughter and I.
Here are some tips to help your children feel good about themselves whatever their size or shape that have been taken from
here
.
Try to avoid discussing your own concerns about weight in front of children.
Avoid making comments about anybody's weight – your own, your child's or other peoples.
If a child hears frequent discussions about diets or parental preoccupation with food or weight, those attitudes will be picked up by the child.
Avoid focusing on weight change as a measure of success – look at behaviours instead.