What do you think they would say to you?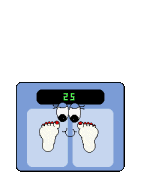 I am in the market for some new scales as my one does not give me accurate readings. It just does to the nearest kilogram/pound.
These talking scales
look good as I would love to know what it has to says each time I jump on the scale.
Specification
•Automatically turns on when you step on the scale (step & weigh)
•Various funny voice commands (can say 'hello', 'good-bye', 'I think you just broke me!', 'Is someone else on here with you?', 'Eh, eh...I can't breathe', 'It's a good thing I can talk, 'cause you probably can't see me', among other sayings)
•Extra large digital display
Will ley you know if I end up getting some.
Yep, they are definitely trying to tell me something!